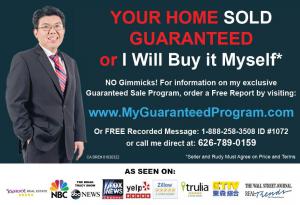 Rudy L. Kusuma Home Selling Team Ranked #1 The Most Reviews and Endorsements from Local Home Owners in zillow – Southern California Real Estate Market
RUDY KUSUMA & TEAM NUVISION IS KNOWN FOR LOOKING AFTER THE INTEREST OF HOMEOWNERS & THIS REPORT WILL HELP THEM SELL FAST ON TOP DOLLAR
LOS ANGELES, CALIFORNIA, USA, March 13, 2018 /EINPresswire.com/ — Prominent Southern California based realtor Rudy L. Kusuma has recently published a ground-breaking report entitled 'How to Sell a House that Didn't Sell' to help homeowners sell their houses fast. Most listed homes for sale do not sell and this report will help homeowners to sell those houses on top dollar and within no time. Moreover, this amazing special report is now available for FREE on the team's website and anyone can access it by filling a simple form online.
"If your home has just come off the market and hasn't sold, don't be discouraged because the reason your home did not sell may have nothing to do with your home or the market." Said Rudy Kusuma of Team NuVision, while explaining the issue. "In reality, your home may have been one of the more desirable properties for sale and we have shared the insights to selling that home quickly in this report." He added.
According to Rudy Kusuma, almost half the listed homes in 2017 were never sold at all and it happened due to the lack of education and awareness among the homeowners. However, Rudy Kusuma is living up to his reputation for selling homes quickly and if his teams fail to sell the house, he buys it himself on cash. Moreover, this particular report along with many other special reports are a part of Team NuVision's campaign to educate the homeowners.
To get this free special report, please visit www.teamnuvision.net/seminar_expired OR call 626-789-0159
To read the reviews of Rudy L. Kusuma, please visit his Zillow page: www.zillow.com/profile/rudylk/
Rudy Lira Kusuma Real Estate Broker License 01820322
Rudy L. Kusuma
RUDY LIRA KUSUMA HOME SELLING TEAM
626-789-0159
email us here

Source: EIN Presswire